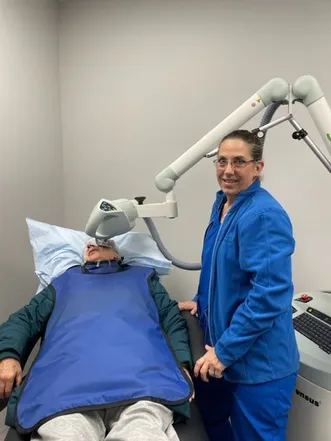 "Southside Dermatology and Skin Cancer Surgery is pleased to partner with SkinCure Oncology to offer IG-SRT - superficial radiation as a treatment option for Squamous Cell Carcinoma and Basal Cell Carcinoma.

How does Image-Guided SRT work?

Image-Guided SRT (Image-Guided Superficial Radiotherapy) kills skin cancercells using low levels of X-ray energy. This energy is like what dentists use to X-ray teeth. It is given by a radiotherapist in a dermatologist's office.

Treatment is given in small doses over time. For most people, this means 3 to 5 treatments per week for a few weeks. Each treatment is painless and takes about 15 minutes.

Image-Guided SRT is the first and only skin cancer treatment that uses ultrasound images. This is different than traditional SRT, which uses radiotherapy without the benefit of ultrasound images. The ultrasound images let your dermatologist see the exact size of the cancer so he or she can target the area with the precise dose.

What are the side effects of Image-Guided SRT?

As with any medical procedure, there are some potential side effects of Image-Guided SRT.

The most common side effects are usually mild to moderate irritation, redness, thinning, or breakdown of the skin that was treated, which may increase the risk for a skin infection.
These side effects can be cared for by your doctor and usually go away within 2 to 6 weeks after treatment ends.
Some people may notice that the skin that was treated becomes darker or lighter.
Hair loss may also happen to the skin that was treated.
Rare side effects include a skin ulcer that does not heal and another cancer forming in the same area 20 to 40 years after treatment
Is Image-Guided SRT covered by insurance?
Yes, Image-Guided SRT is covered by most insurances and Medicare.